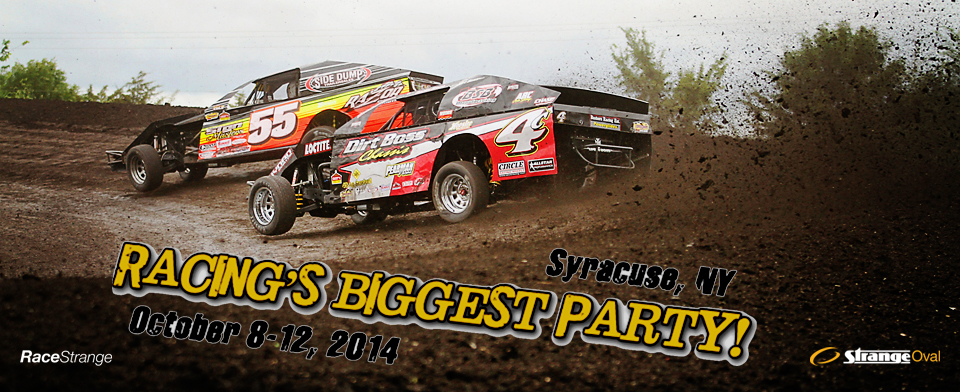 Strange Oval is ready to bring their top notch team to this years Super Dirt Week in Syracuse next week! With an event boasting numbers such as this one, we had to come out and bring our support to our Strange Racers! the expected car counts for Syracuse are 70-80 Big Blocks, 60 to 70 Small Blocks, along with 120 cars combined within the Sportsman and Pro Stock divisions! Some 50 thousand (+) spectators are expected for the weekend of racing at what has become known as "The Moody Mile"!
The USAC Silver Crown cars will also join the event with their 76 lap event leading up to the Small Block Modified main event on Saturday. Capping it off (in the event that  this alone doesn't satisfy your racing appetite), The WORLD OF OUTLAW sprint cars will run Saturday night just down the road at Rolling Wheels Raceway in Weedsport, N.Y.!
If you are looking to speak to someone about getting a little Strange on your car, we will have many representatives at this event! Along with myself (Crystal Bailey) there for social and media captures, we will also be bringing the President of Strange Oval, Jim Kontje; The President of all of Strange Engineering, Jeff Stange, and our top line Engineers! On top of that, you can also find the CREATOR of the KERA Wrap Axle as most of you already know the name, Hank Kleban! So make sure if you see us walking through, stop us and say "Hey!" and ask any questions that you have been burning to know about the Oval tracks` "Best Kept Secret"!  In addition to the direct representatives mentioned above, we will also have Troyer Engineering and Bicknell Race Cars present as our chassis builders; and East Coast Auto Store will be displaying our products in the TEO Chassis tent. So make sure and GetSomeStrange while you are at this giant event!
Strange Oval will also be offering up products to our winning racers this weekend! These offers include 1 pair of KERA axles to the 5th place finisher in the main event Big Block Modified division race (race on Sunday 10/12) – and 1 set of torsion bars for the 3rd place finisher in the main event Small Block Modified division event (race Saturday 10/11)!
Itching to know who will be running Strange Oval components on their car for the big wins? Well, here is the scratch you have been waiting for! Some of the drivers who will be running Strange Oval components, many of whom will pull "double duty" by competing in the Small Block Modified event on Saturday leading up to Sunday's MAIN EVENT will be none other than Brett Hearn, Jimmy Phelps, Matt Sheppard, Ryan Godown, Kenny Tremont Jr., Bobby Varin, Jimmy Horton, Tim McCreadie, Stewart Freisen, Billy Decker, Peter Britten, Eddie Marshal, Keith Flach, Rob Bellinger...just to name a few!
There will also be a surprise "Throw-back" modified that will be unveiled for the FIRST TIME  when the cars unload for inspection at Syracuse! The car will be a brand new Bicknell Chassis painted in the livery from years past when this driver and Modified Hall Of Fame inductee owner teamed as "one of the more potent big block modified teams." The then driver was once quoted saying…. "It certainly is easier to be a loser than a winner. At least when I was a loser, everyone was my friend."...we are certainly fired up to tell you more about this unveiling, so make sure you stay tuned to this story and our Strange Oval blog posts and Facebook and Twitter Feeds, as we will be running a special feature to tell the full story behind this Unveiled Throwback!